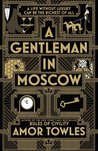 A Gentleman in Moscow
by
Amor Towles
My rating:
5 of 5 stars
I LOVED this book. I didn't expect to when I was just a few chapters in, despite the fact everyone I knew who read it absolutely raved about it. For me, it got off to a slow start. But then I was hooked. I didn't want to put it down.
This is definitely a characters driven story. And what a character we get in the Count and his "comrades." To see each of the characters grow and develop over the course of the book, in addition to learning snippets of the back story of each. It was just beautifully done.
I learned some Russian history as well, so that's always a nice bonus.
Also liked the alliteration in all the chapter titles.
View all my reviews